Here are just a few highlights from Marcus and Sophia's week playing and learning....
Learning Trays:
I had the following learning activities on the learning shelves
*
for the kids--
1)
Animal Domino Set
Aren't these things cute? I just love this toy. These are made by Plan Toys and like most Plan Toys they are extremely durable and well made. I love these dominoes particularly because they are extra large. So even very little hands can be successful at stacking them and manipulating them. Marcus and Sophia don't yet understand the rules of the classic dominos. However, we played some matching and grouping games with these. The kids also had fun setting up long domino chains and "huffing and puffing" them down like the big bad wolf. The other activity that they came up with was using the dominos to build a train across the floor. All in all this was a very popular tray that promoted basic math skills (matching and sorting); language skills (talking about the animals); fine motor skills (setting up domino chains); and creative skills (pretending to be the big bad wolf and building a train). Not bad for a simple toy!
2) Nuts and Bolts Matching
I found these at a Once Upon a Child store near my house. (That is where I buy most of our toys.) These are old school Melissa and Doug Nuts and Bolts. I can't find these on amazon anymore to link them up for you, so they must be pretty old. The came in a wooden base that you can actually screw the nuts into, but that proved too difficult for Marcus and Sophia. So, I took them out and put them on a tray instead so they could twist the bolts with their hand. I like this particular nuts and bolts set because it emphasises both colors and shapes. Each nut and bolt is a different color and shape. The st is also self correcting. (Only the yellow nut will match the yellow bolt.)
3)
Magnetic Dress Up Doll
Sophia really enjoys this toy. It helps build vocabulary by teaching her to describe the dolls clothes. It is also a good toy to practice dexterity as she has to manipulate the tiny little pieces to dress her doll.
4) Star Counting Game
This was a practice in counting and math. Basically each laminated card had a picture of a spaceship a moon, and some stars. At the bottom of the cards were three numbers. (Different numbers were on different cards and they were not in any particular order.) The child had to count the stars and then put the clothespin on the correct number. I downloaded these cards for free from some site, but I now completely forget where I got them from. (I hate that!) If anyone recognizes them, please leave a comment so I can give credit.
5)
Lacing Cards
The kids see me sewing all of the time, so they were excited when I told them that they could sew with these cards. However, they quickly lost interest in the lacing. Instead they mostly pretended to eat the foam food. :)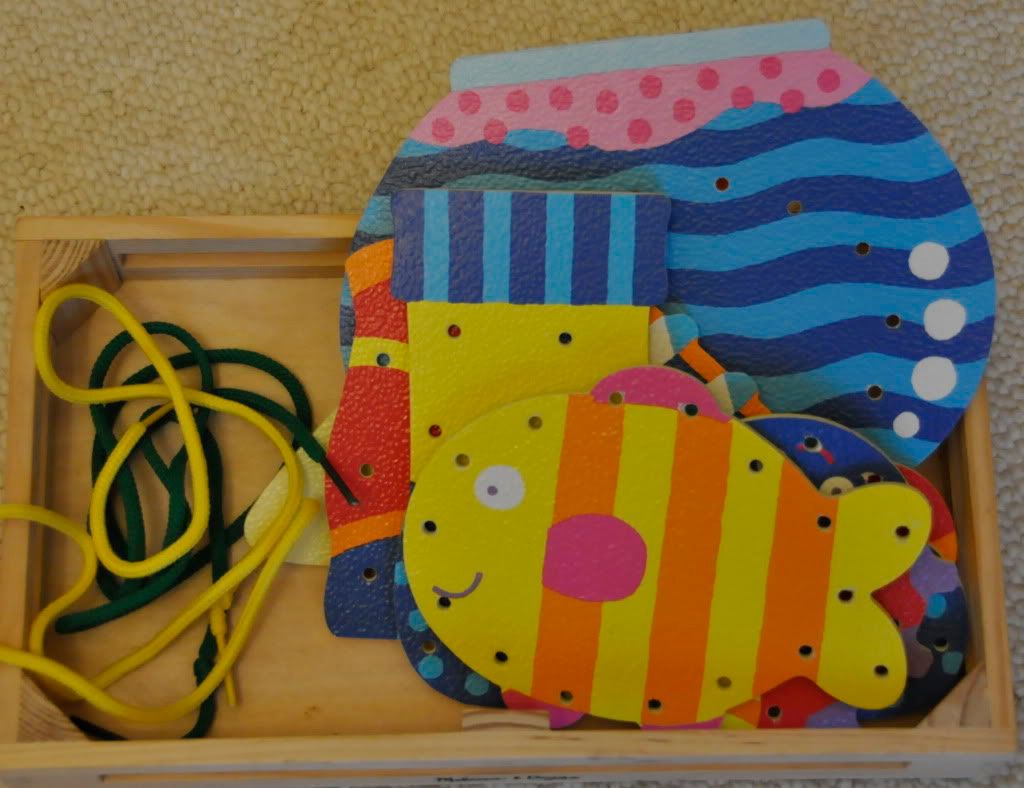 6)
Fruits and Vegetables Cutting Set
You will have to forgive this picture. As I type this, most of the fruits and vegetables are spread across the living room floor. Very few got put back on the shelf like they are suppose to. So I used the stock photo from amazon so you could see the toy we have. This is an ingenious idea for a toy. The wooden fruit "components" are held together with strong velcro. The child then uses a wooden knife to "cut" the toys apart. Marcus and Sophia love pretending to cut the food and serve it to me. This is an excellent fine motor activity.
(Photo courtesy of Amazon.com)
*

To see more information on how we use our learning shelves, please visit this tot school post here.
Other fun learning and playing:
We had a light alien unit theme going recently. Marcus was interested in checking out some books about aliens so we just kind of went from there. (Hence the space ship math activity above. I made that to tie in with our theme.)
We made Letter A's in the shape of aliens...
We also played with Moon Sand. (Speaking of moon sand, I also found a recipe for making homemade moon sand. I can share that if anyone is interested. The
commercial moon sand
is so expensive, so I was glad to finally find a decent homemade version.)
hanging monkey toy
. They learned a lot about weights and balancing a scale with this.
beginner pattern blocks
. They each choose which pictures they wanted to build with the shapes. They were very proud of their creations so they each wanted me to take their picture why they laid by their work. :)
Batman Letter B
to add to our alphabet books.
Sophia also hung out in our listening center while she read her nursery rhyme book while following along to the CD. She just loved doing this! This is a great activity for building print awareness.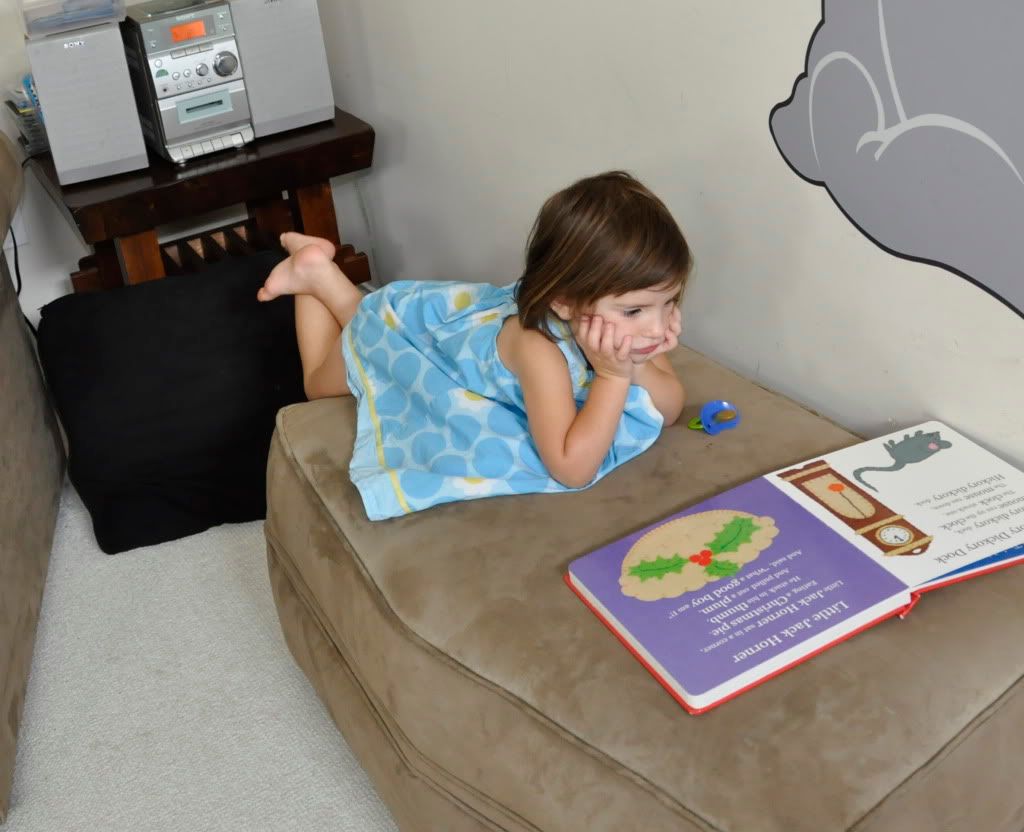 ..And as you know, we love books at our house!
These
are the books that Marcus and Sophia chose to read this week.