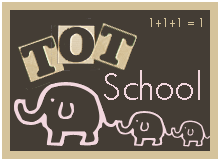 (Sophia is 20 months old and Marcus is 37 months old.)
We had a great week of playing and learning this week!
Enjoying Nature/Nature Study:
We had a lot of snow here, so we spent a good portion of our week outside playing. We each received a sled for Christmas so we plan to be outside a lot this year!
The kids both learned how to make a snow angel. And they learned how to "hold on tight" as they went down the hill sledding. I was very impressed that Sophia was able to hold on to the sled all by herself. (The "hill" we went down was more of a small bump in the grass than a real hill.)
We also talked a lot about "footprints" in the snow. We noticed that Daddy had the biggest footprints and Marcus and Sophia had the smallest footprints. We also found some footprints made by our cat Spock. And some footprints made by a VERY large bird. (We were not able to identify the bird.) Marcus found the footprints in the snow very interesting, and was sad to see that they were gone when more snow fell.
Dramatic Play:
We also played inside a lot with our new Christmas toys. Sophia had a "
coffee party"
for her dolls. You can read more about that
here
. The kids also enjoyed playing with their new
Haba Nativity Set
. Baby Jesus went on all kinds of adventures all through the house while Marcus played with him. Marcus even had his Buzz Lightyear fly Baby Jesus around the room and rescue him.
Sensory Play / Open Ended Art:
We also made Streeee-e-e-etchy Dough. The kids had a lot of fun exploring that medium. You can read about that fun adventure
here
.
Well, that's about it! Happy 2010 and Thanks for reading!